Schedule your service today through our online booking system:
KERATIN COMPLEX STRAIGHTENING
The Keratin Complex Hair Therapy System by Coppola conditions and adds shine to the hair by infusing Keratin (a natural protein already found in your hair strands) deep into the cuticle.  The result of this process is that each strand of hair has had keratin thermally instilled to restore strength into the damaged hair shaft.  This smoothing system will eliminate up to ninety five percent of frizz and curl from the hair.  Testimonials from our clients are that their hair is manageable, easier to upkeep, and has a reduced daily styling time.  For many, this is truly a life changing experience! It will rejuvenate the hair, giving it the soft, silky feel that everyone is raving about.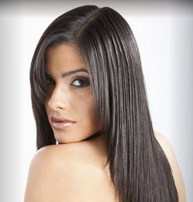 The Keratin Complex Hair Therapy system bonds to the hair shaft to relax the hair's sub-cuticle layers with results lasting typically 3 months (depending on hair type).  The system will last longer the more you get the process done because the buildup of keratin can only improve, not harm, the hair.  No unpleasant fumes or odors; the keratin solution is sealed into the cuticle by the heat of the flat iron.  Unlike other relaxers or the Japanese straightening the Keratin Complex is not a chemical process, where as it doesn't need to be neutralized and doesn't break down the bonds of the hair shaft with dangerous chemicals.  The Keratin Complex eventually wears out of the hair making regrowth blend together with processed hair unlike the Japanese straightening which regrowth is easily noticed.   Further, the therapy encases the hair follicle to promote healing and helps keep environmental toxins such as smoke, pollution and ultraviolet rays, from entering the hair.
Keratin Smoothing Treatment
*The only salon in Marin County to be Completely Certified*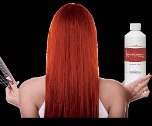 A revolutionary smoothing system that restructures the hair shaft, rendering it straight, smooth and manageable.
Can be used on all hair types; including colored and chemically processed hair.
Eliminates frizz and curl
Gentle-uses Keratin protein; will not damage hair
No unpleasant fumes or odors
Leaves hair softer, silkier, and shinier
Less maintenance
Reduces daily styling time
Consultation & deposit required; 3 hour – process
Starting at $300 and up
Keratin Express $125